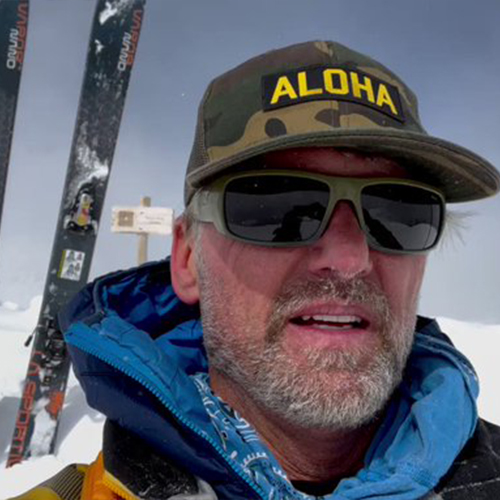 JEFF EVANS
For over 25 years, Jeff Evans' global experiences as a world-class mountaineer, guide and emergency medic have helped him master the skills of servant leadership, handling adversity, teamwork, communication and trust which are the cornerstone themes in his keynote and breakout sessions. Jeff's amazing adventures and challenges have given him the tools to become one of the most dynamic and inspirational speakers on the circuit today, delivering his message to tens of thousands of audience members and changing the way we approach our roles within our work and family environments. Jeff reminds us that, in fact, we are all guides in some capacity…professionally and personally. By utilizing real life stories, vivid images and thrilling video from his adventures around the globe, Jeff is able to extract impactful themes which are applicable for every audience member and weave them into memorable, humorous, thoughtprovoking and paradigm-shifting keynotes. Jeff's skills have been acquired not only on the highest peaks around the world, but also through guiding blind climber Erik Weihenmayer on extraordinarily challenging objectives including the summit of Mt Everest and a 2nd place finish on ABC's adventure series, Expedition Impossible. While filming the series Everest Air for the Travel Channel, Jeff served as the chief medic and team leader for the highest helicopter-based Search and Rescue team in the world on the flanks of Mt Everest. Also contributing to Jeff's expertise are his experiences as the co-founder and Expedition Leader for the injured US veteran program, No Barriers Warriors as well as his time spent on the front lines in Iraq leading a team of emergency medics in their efforts to save the lives of injured soldiers and civilians. He is the published author of Climbing Through Storms: Managing Adversity in a VUCA World and MountainVision: Lessons Beyond the Summit and is featured in the award-winning documentaries Farther Than the Eye Can See, Blindsight, and High Ground. Jeff received his undergraduate degree in anthropology from the University of Colorado in Boulder, and his Masters as a Physician Assistant at Drexel University in Philadelphia. Jeff currently resides in Evergreen, Colorado with his wife Merry Beth, son Jace and dog Roka.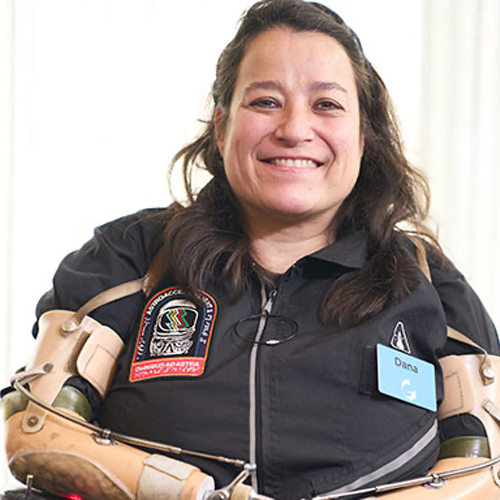 DANA BOLLES
Dana Bolles works in science communications at NASA Headquarters. She started work at NASA in 1995 as a Payload Safety Engineer in the space shuttle program at Kennedy Space Center. In total, she has worked at four NASA centers over her 26+ year career. She is proud to serve the American people and is a strong advocate for disability in STEM. Dana currently is part of the #IfThenSheCanexhibit at the Smithsonian 'Women's Futures Month."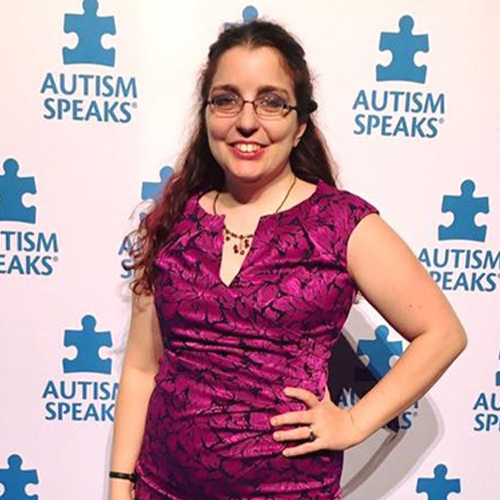 AMY GRAVINO, M.A.
Amy is an autism sexuality advocate and Relationship Coach in the Center for Adult Autism Services at Rutgers University. She is also the President of A.S.C.O.T Consulting, which offers autism consulting, college coaching, and mentoring services for organizations, schools, individuals on the autism spectrum, and their families. Amy is an international speaker who has given TED talks, spoken twice at the United Nations for World Autism Awareness Day, and presented worldwide to audiences on a variety of topics related to autism, with a dedicated special focus and research on the subject of autism and sexuality. Ms. Gravino obtained her Masters degree in Applied Behavior Analysis from Caldwell University in 2010 and currently serves on the Boards of Directors of Specialisterne North America, Yes She Can, Inc. and the Golden Door International Film Festival of Jersey City, as well as the Scientific Advisory Board of Simons Foundation Powering Autism Research (SPARK). She is an awardwinning writer who has co-authored a chapter on autism and sexuality in the Handbook of Quality of Life for Individuals with Autism Spectrum Disorder, and her work has been featured in Spectrum, the leading online news source for autism research, and other outlets. Visit www.amygravino.com to learn more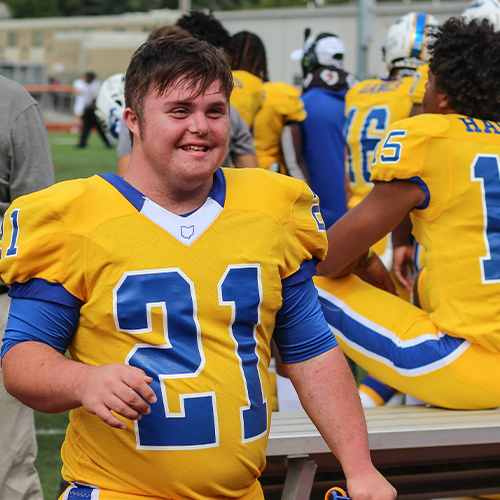 CADEN COX
When you think of football, what comes to mind? Do you think of the athletes and the physicality needed to play the game? Or do you think about the hard work and determination teams put into training for a season? You probably wouldn't think about a person with Down Syndrome playing football, scoring points for their team, and in the process, making history. But that is exactly what Hocking College football player, Caden Cox did.
Caden was born on June 7, 1999, with Down Syndrome. His parents, Mari and Kevin had learned their son would be born with Down Syndrome during an amniocentesis. Mari's first reaction was to figure out what it meant. Down Syndrome is the most frequently occurring chromosome disorder in the United States, causing intellectual and developmental delays. It affects close to 6,000 children yearly. People born with this genetic disorder have an extra chromosome, chromosome 21. To represent the disorder, all of Caden's football jerseys are number 21.
When Caden was little, his parents chose to focus on what Caden could do rather than what he couldn't do. He always did everything his older brother did, but without the anxiety or stress that sometimes people put upon themselves. Mari said when Caden did things, he went all in never self-conscious or worried about peer pressure.
His parents enrolled him in martial arts at two, and it quickly became his therapy. Over the years, Caden has participated in many extracurricular activities. He has a second-degree black belt in Taekwondo, many Special Olympic Medals, 8 State of Ohio Medals in swimming, he played percussion in band and was instrumental in starting the Inclusion Club at York High School in Yorktown, VA.